Home
How To Get A Colorbond Roof Restoration For Your Melbourne Residence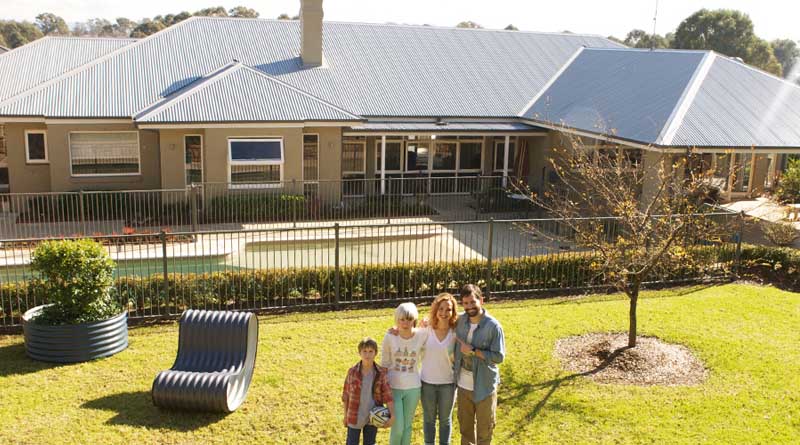 Many homeowners prefer the Colorbond roofing over other types of roofing due to its strength, durability, sleek appearance, and thermal efficiency. Colorbond is made with a strong core and coated in a pre-painted seal. It is extremely resistant to corrosion.
This roofing choice was first introduced in 1960, and it has gained popularity over the years in Melbourne over the corrugated roofing.  Colorbond is available in over 20 colors, making it easy for the homeowners to choose a colour that matches their houses' theme.
If your Colorbond roof looks tired and dull, it's possible to get the Colorbond roofing restoration and extend its lifespan. One of the best ways you can restore your Colorbond roof and maintain the benefits from the original instalment is through painting it over.
Many people tend to think that the Colorbond roof cannot be painted. But this is not true. In fact, the Colorbond roof can be restored and re-painted easily, as long as you use the correct paint and let a professional handle it.
The Colorbond roof restoration process in Melbourne
The process of restoring a Colorbond roof is not as easy as painting a concrete tile roof, the process is completely different. That's why you should only hire a professional to do it. Here's how to restore the Colorbond roof.
Inspection of the roof's condition
When it comes to Colorbond roof restoration, the first and most important step is to know what you are dealing with. To ensure that the painting process goes smoothly, a roofing specialist must thoroughly inspect the roof to assess any potential problems. What may appear as a degraded Colorbond roof from a distance, could turn out to be contaminates that require deep-cleaning. But in most cases, Colorbond roofing's extreme durability may mean that the paint is just slightly faded.
Additionally, a professional roofer will fix any issues that the roof may have. This includes replacing rusted screws, old lead nails, and any sheet if necessary. This will not only ensure that the paint will last longer but also ensure that the paint is applied to high-quality materials.
Pressure clean for preparation
Once it has been confirmed that indeed your Colorbond roof requires a re-paint, the entire roof will be cleaned to prepare for the priming and painting process. The roofing expert will pressure-clean the roof with specialised Colorbond designed detergents at 3000psi. This will break down any oxidised paint and allow the paint to easily bind with the surface.
Cleaning the roof is essential for the success of a Colorbond roof repaint. Inadequate cleaning and preparation will lead to poor adhesion and in the long run, the paint will soon fade off. If the roof has some rust, then the roof specialist will use specific rust treatment to get rid of the rust before the priming process.
Priming the roof
The next step of the painting the Colorbond roof is to make sure that the materials are well primed. Priming Colorbond roofing involves applying a specially designed prime that will provide a maximum binding for paint on the bare metal surface. It's worth noting that some Colorbond roof paints are self-priming, so they do not require a primer. Most of the Colorbond primes are designed as spray paint. The roof specialist will use the spray gun to spray the primer at a pressure of about 3500psi, for maximum adhesion and smooth and even layer to apply the paint.
Paint the roof
Colorbond roof paints are purely water-based acrylic membrane paints that are designed solely for steel and metal roofs. The roof specialists will carefully apply these paints using an airless spray gun for a smooth, even finish. The paint for Colorbond roof materials cannot be applied using any other method such as using a roller as this will not have maximum adhesion. Moreover, it will take many hours and when the paint overlaps the previous roll, it could be dry already, and this will demote adhesion. Colorbond paints are applied using a method known as 'wet on wet'. This may be a bit hard to achieve with a roller. So you should get an expert roofer to do the painting since they understand the process of painting a Colorbond roof better than you.
What colour can you choose to repaint your Colorbond roof?
Colorbond roof paint can be adjusted and tinted to almost any colour you desire. But the most common colour is standard Colorbond colours. There are over 22 different colours which are divided into classic and contemporary.  So you can be sure that you will get the colour that suits your home theme and even the weather.
Final words
If you are in the market looking for a Colorbond roof restoration, there are things you should consider. For instance, you should get all your roof repairs prior to painting, this will save you time and money in the long run. You should also think of the harsh conditions your roof and paint will endure. That's why you should choose high-quality paint to get the best results. Determine what colour you want to repaint your Colorbond roof with. You can even ask the roofing expert to help you choose a colour if you cannot decide. Finally, roof restoration is not something you can handle, it is best to leave it to professionals. Look for the best roofing specialist in Melbourne to help you with restoring your Colorbond roof.